Empowered Physical Therapy PLLC offers in-clinic visits in Lake Stevens and telehealth appointments for patients in the State of Washington. Please reach out if you are in another state, as we have options for you!
Call or Text: (425)230-6188
Email: info@empowered-physicaltherapy.com
Address: 9015 Vernon Rd #102 Lake Stevens, Washington
Business hours: Monday – Thursday 8:00 am – 4:30 pm
Have you followed us on Instagram yet?!? We're pretty hilarious: https://www.instagram.com/empowered_physicaltherapy/
At Empowered Physical Therapy, we feel strongly about being transparent with our costs. A big frustration of ours is when companies hide pricing or when you get unexpected bills. We can't change what others do, but we can be the change we want to see in our world. Rarely do we find that price is the main factor in getting care; but that the value of the result is the most important factor. We believe you will find the value we provide in changing our patients lives and getting them back to living life pain & leak-free far outweighs the costs in the big picture.
Physical Therapy Services
60 min initial evaluation
15 min consultation (via video or phone)
We'll get the nutshell version about what you're experiencing, and talk about strategies to help you move forward.
Are you ready to live without your pain?
Investing in your health and quality of life can be a real challenge. That's why we offer single visits and discounted bundles of visits, providing our patients with multiple options to access the care they deserve.
Bundle DEAL: 16 Follow up visits
**Best for patients with one or more pelvic floor issues to overcome, complex pelvic pain, and/or high level athletic goals.**
Package of 16 Follow up Visits
$180 each
**SAVE $540!**
16 weeks Empowered Wellness Membership included ($220 value)
Three month payment plan available!
$2880 total price
Bundle DEAL: 12 Follow up visits
**Best for patients with one or more pelvic issues to overcome, low or no current exercise, and/or currently pregnant**
Package of 12 Follow up Visits
$185 each
**SAVE $345!**
12 weeks Empowered Wellness Membership included ($165 value)
Three month payment plan available!
$2220 total price
Bundle DEAL: 8 Follow up visits
**Best for patients who have one  low complexity pelvic floor issue to overcome and are currently strength training regularly**
Package of 8 Follow up Visits
$185 each
**SAVE $230!**
8 weeks Empowered Wellness Membership included ($110 value)
$1480 total price
Follow up visits without bundle deals
60 minute follow up visit
$200 each
Is a Bundle Deal Right for You?


« You are motivated to change your life
« You are committed to prioritizing your health
« You thrive with accountability

« Your pelvic floor problem has gone on for long enough and you are ready to be done with it for good!
EMPOWERED WELLNESS MEMBERSHIP
A trifecta of empowerment with exclusive access and holistic healing.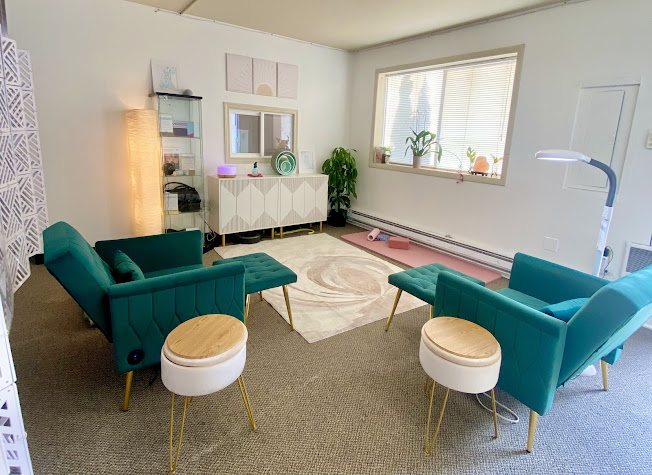 WELLNESS LOUNGE
The Empowered Wellness Lounge allows you access to use any of the following tools and equipment to help with your healing journey:

Red Light Therapy, Normatec Compression Therapy Leggings, HyperVolt Massage Gun, "Happy Lamp" Full Spectrum Therapy Light, Neck Massager, Meditation area, Yoga & Stretching area
Empowered Wellness Membership: No public access: only available to current & past patients.
Included in our bundle deals, and $55 monthly after bundle deal membership ends, or a la carte.
Dr. Rachel and her team are amazing! I had right hip pain I had been struggling with for 5 years. The pain had gotten so bad after my third pregnancy that I could not sit in the car without being in pain and to get out of the car was a struggle. I was in near constant pain. I had been to physical therapists in the past with little relief. I have been working with Dr. Rachel for about 5 months and with her help and guidance I am no longer in pain! She got right down to the root cause of what was going on and has worked with me to help me understand what was going on and helped me heal and strengthen my body. I will forever be grateful Dr. Rachel and her dedication to truly listening and healing her patients. As Dr. Rachel said the first time I spoke with her. "No one deserves to live in pain."
I was diagnosed with Endometriosis November of last year and Dr. Rachel has provided me with tremendous chronic pain relief. Thanks to her multifaceted and lifestyle focused approach, I can now manage my pain and actually live my life again! Before seeing her I was experiencing frequent fainting spells, extreme fatigue, and tremendous chronic pain on a daily basis. I was confident my quality of life would never recover because of this terrible disease. Dr. Rachel created a health plan that was specific to me and my needs that extended far beyond just arriving to physical therapy every so often. She was incredibly knowledgeable about my condition and provided me with so many resources, referrals, and advice that ensured I had all the tools and help I needed to live healthy and heal my chronic pain. I couldn't recommend or thank her enough, she's given me my quality of life back at a time when I thought it would be impossible to live normally again. Thank you Dr. Rachel, you truly are a pelvic floor goddess!
WOW! First I totally thought physical therapy was just another thing to pay for. During pregnancy I would see things about your pelvic floor and think meh if I watch enough of these I can help myself... Wrong!!! Best budgeting decision I ever made was to invest in Rachel's help and helping myself. She has one of those personalities that you feel like you're talking to a friend. She's cheerful, honest, kind hearted but also not a push over and explains things well. If you're looking for a fast get on the bike and your twenty minutes is up this isn't the place for you! Now if you're looking to feel heard, learn some interesting things about your body, feel comfortable and start putting in the work this is it! I thought after having a baby ok maybe if I book an appointment it'll help these weird pains I get. I am pretty sure she's helping me correct things that I've had since a teenager! It's been incredible to learn what causes things, how to help things, sometimes how much a simple stretch makes you sweat. Honestly if you're on the fence about going to see her for whatever reason book an appointment! I mean unless you are hoping she's going to give you a magic pill to solve it all. In that case stay home because somebody else who needs her help should take the spot. If your worried about commitment/scheduling or money make the appointment! She's in it to help you, like actually help you. She'll help come up with a game plan. If it's money skip your daily coffees for the month! Ladies coffee at home versus peeing your pants, uncomfortable during intercourse, reoccurring UTIs which may not actually be what's happening... I know the coffee is tempting but so is not needing to skip doing things with your kids. Packing extra underwear/ wearing pads. Taking rounds of antibiotics which cause yeast infections. SKIP THAT COFFEE and schedule!
Rachel is an awesome PT. And the new space is great!
Can't wait for my appt next Friday!
It was quite impressive. I appreciated the wonderful flow of info, showing the interconnectedness of it all and I LOVED that you started with breath! Your narrative was so skilful, that questions raised in one section, smoothly led to your next, valuable, chapter. Our interaction was informative and transformative. Above all, this workshop is encouraging and equipping, for a more powerful, transformed life!
Rachel is amazing and her pt has helped me so much. I am no longer having to change my pants when I sneeze. I am so happy I decided to work with her. I have my life back.
I was skeptical since I had tried various unsuccessful treatments to resolve my symptoms. Dr. Rachel quickly addressed my chronic issues with her integrative, resourceful and kind approach. She is that doctor that not only has mad skills but takes the time to work with her patients to source the core issues while working towards solutions. My symptoms for the first time are almost non existent with a huge improvement in my health and happiness. I highly recommend Dr. Rachel.
Rachel at Empowered physical therapy helped me solve all my issues. She is amazing! I am very grateful for her energetic and compassionate combo to keep me motivated and moving toward my goals.
Love Rachel! She is so patient and understanding. She never made me feel uncomfortable. Her energy is awesome. After working with her for a few months my symptoms have resolved and I have tools to prevent further issues and manage flare ups.
I've had right hip pain since the beginning of 2020 that never fully went away after having my son in 2021. After 1 visit with Dr. Rachel my hip pain is gone, I'm able to all my favorite exercises without pain during or after. She is so personable and easy to work with. Very knowledgeable. I can't wait to continue to work with her throughout my pregnancy for better overall outcomes. 10/10 would recommend.
I had my first appointment with Dr. Rachel today and I am so excited! I have seen so many providers trying to find solutions to my pain and I have never felt so heard by another provider. She is so knowledgeable and makes sure you understand what's going on, and what needs to be done to address it! I felt so safe and comfortable in her care and definitely recommend her to anyone needing pelvic floor therapy!
From my very first appointment Dr. Rachel Jalanivich made me feel safe and welcome. She truly cares about her patients, is extremely knowledgeable, and works hard to provide care that goes above and beyond. I will definitely be recommending her practice in the future!!
Rachel helped relieve my hip & pelvic pain and return to running without any issues! She is very knowledgeable and professional. She is an amazing Pelvic Floor Physical Therapist! I would highly recommend Empowered Physical Therapy!
Dr. Jalanivich is very knowledgeable. I think her program will be a game changer. Plus she is a good PT with good customer service.
Dr. Rachel provides comprehensive and compassionate care! She's very knowledgeable and professional. I would highly recommend seeing her for any pelvic floor needs!
I love, love, LOVE Rachel! I'm 7.5 months postpartum from a c-section and she is helping me recover my body before I get pregnant with baby #2 and aim for a VBAC. I've also had nightly bladder issues since before I was pregnant with my first and it only took a month before those issues resolved with the exercises and techniques she gave me. plus the convenience of her coming to my house for sessions helps with a baby at home. I will forever recommend her and plan to continue to see her as I recover from this last pregnancy and through my next Pregnancy and postpartum.
I used Rachel for my postpartum pelvic floor recovery. Rachel is knowledgeable, professional, personable, and hilarious. She made me feel empowered, took the time to explain things in a way I could understand, and showed me what my potential recovery could be. She let me know that what I was capable of was greater than I expected and I am now enjoying a full recovery with no limitations and the ability to enjoy my baby and my body.
I truly enjoyed the live workshop, I learned a lot about breathing techniques that improve my running experience.
I attended Rachel's "Breathing Strategies For A Leak-Free Life" workshop and was so thankful to be there. She is a powerhouse of knowledge in so many of the intimate areas that woman commonly struggle with. It was easy to be open an honest about my pelvic floor struggles and felt no sort of judgement from her. I look forward to attending more workshops and plan to schedule a evaluation with her soon!
Literally an answer to prayers! Rachel has helped my diastasis and messed up tailbone so much! She's wonderful to work with and knows her stuff. Can't thank her enough!
Rachel is one of the kindest, most knowledgeable PT's I've worked with. It's very difficult for me to get comfortable when it comes to pelvic floor therapy, but she made it so easy and comfortable. I look forward to our weekly sessions and I learn something new about how I can help my body improve each time.
I use to work and assist Rachel when she lived in CA and let me tell you.. she absolutely knows what she is talking about and she will always be honest with you. She makes sure that you know what's going on detail per detail and explains things in a way that even your cat will understand what's going on! I've never appreciate the field of pelvic health until Rachel emphasize how crucial and special the male and female body is—especially during the process of birth and it's many complications. You're in good hands if you're looking for someone to care for your pelvic floor needs, Rachel cares about each and everyone with a whole heart
After delivering my first baby, I was concerned about my pelvic floor and some resulting prolapse and DR (diastasis recti). I went into my initial assessment with Rachel a bit discouraged and afraid that I may never get back to my pre-pregnancy activities. Rachel immediately eased my concerns and reassured me that I would see substantial improvement. She educated me about the pelvic floor, prolapse and how breastfeeding would affect my tissue. While pelvic floor therapy can be somewhat awkward, Rachel put me at ease. She gave detailed explanations of what she was doing and why. She was also able to empathize with the chaotic schedule of a new mom by providing realistic homework exercises to keep me moving forward without overwhelming me. Rachel is professional, personable, knowledgeable and, best of all, effective! I am now 6 months postpartum, able to squat with a barbell, able to baby-wear my 20 pound nugget and resume normal daily activity without prolapse symptoms and my DR is completely resolved. I would highly recommend Rachel to any woman wanting to regain control of her body!
Dr. Jalanavich is a true professional. She is extremely knowledgeable about the human physiology as it pertains to rehabilitation and improving how you feel. As a woman, I feel like she understands our needs while speaking to us in a way that feels comfortable (even with uncomfortable topics) - kind of like a best friend who is help healing you. Im upset she moved from San Diego but would highly recommend her for anyone in her vicinity for physical therapy!
I've known Rachel through out her career and would highly recommend her. She is knowledgeable and passionate about women's health. She is an advocate for women providing caring therapy and education in her practice. Rachel creates a comfortable environment for patients to openly discuss pelvic floor issues, available treatments and resources.
I highly recommend working with Rachel, she's personable, down to earth, and most importantly an animal and plant lover. She's an amazing human who will go out of her way to make sure you get the best care possible.