Meet the Empowered Physical Therapy Team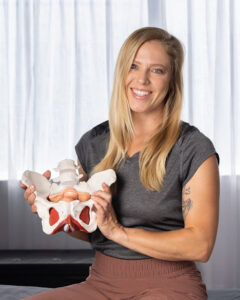 Pelvic Floor Physical Therapist, Owner & Founder
Dr. Rachel Jalanivich decided to open her own physical therapy practice to provide higher quality care than high patient-volume clinics. Her pelvic floor physical therapy practice is focused on quality over quantity, and the patient results speak for themselves!
Dr. Rachel has been in the physical therapy field for over a decade and has further education beyond her doctorate degree in pelvic health, dry needling, and orthopedics.
Stemming from her military background, she is a fierce advocate for women's rights and loves helping women regain control over their bodies.
Fun facts about Dr. Rachel:
She has 2 dogs and a cat
She has lived in California, Florida, Texas, Hawaii, and now Washington
She was Active Duty Navy for 7 years and a Reservist for 2
In the Navy, she was a Search and Rescue Swimmer for 4 years before changing jobs to the Physical Therapist Assistant
Her favorite foods are sushi, pad Thai, and ice cream
Her favorite activities are hiking, camping, scuba diving, and all DIY house projects that involve power tools
She believes laughter is the best medicine
Pelvic Floor Physical Therapist
Julia studied physical therapy in her home country of Austria and graduated in 2010. She has done extensive coursework in the field of Women's Health and enjoys empowering women through education and functional exercise. She utilizes a holistic hands-on approach and evidence-based practice to create individualized treatment programs. An avid hiker, yogi, and trail runner, Julia is enthusiastic about teaching her patients how to move optimally to reach their goals and stay active through all phases of their lives including pregnancy and postpartum.
Fun Facts about Julia:
Julia has a pet snake

She traveled three summers in her campervan in North America to find the most scenic hikes
She was born and raised in Austria but never heard of the Sound of Music until she moved to the US
This fall, she and her husband welcomed their first child
Her favorite vacation spot is Alaska
She has lived in Los Angeles, Malibu, Phoenix, Vienna, and settled in Lake Stevens
Her goal is to hike all main volcanoes of Washington (Mt Rainier, Mt Baker, Glacier Peak, Mt Adams, Mt Saint Helens)
She has encountered 28 bears in the wild!
A Lake Stevens local, Stephanie has been serving this community for years! Stephanie is passionate about women's health and wellness. She is the voice behind our patient communications, scheduling, and social media. She is vital to Empowered Physical Therapy's operations and we are so lucky to have her!
Fun facts about Stephanie:
She loves audiobooks
Stephanie loves to travel and her favorite place she has traveled to is Curaçao in the Caribbean.
She has a 10 year old black lab named Ella
She loves spending time outdoors hiking,fishing, and camping
She got married this summer
She met her husband over 20 years ago, in middle school, right here in Lake Stevens
Her favorite food is the Baja Roll from Kai Sushi
She's a Bowling aficionado
Licensed Massage Therapist and Yoga Instructor
With two decades of massage therapy experience under her belt, Kiley specializes in deep tissue, myofascial release, and the holistic wellness of body and mind. But that's not all! Kiley brings a wealth of knowing and expertise to the world of yoga with 10 years of experience as a yoga instructor.
Kiley owns Kiley R Yoga & Massage and rents space at Empowered Physical Therapy. Took book a massage with Kiley please email her directly at KileysRuiz@gmail.com 
 Or visit her Facebook Here!
Available on Tuesdays only