Empowered PT Event Calendar:
Scroll down for more details!
Upcoming & Past Events at Empowered PT
Birth Toolkit: Labor Position Class
**New class**

Learn about your body's natural ability to cope with discomfort during labor and how a variety of labor and pushing positions can help your baby(ies) move through the birth canal and pelvis. Partners will learn helpful techniques to support the laboring person both emotionally and physically. Class price includes 2 people.

Class to be held at Empowered Physical Therapy Clinic

9015 Vernon Road #102
Saturday, November 18th at 10 am This class is 2 hours long

Contact info melissa.steiner1019@gmail.com
or info@empowered-physicaltherapy.com
Weekly Sound Bath by Manifest Enlightenment
Join us for this incredible upcoming event.. Every Wednesday!!

Immerse yourself in the healing power of sound every Wednesday at Empowered Physical Therapy LLC in beautiful Lake Stevens, WA. Our weekly sound baths are a journey of tranquility and self-discovery, starting on October 11th.

What is a sound bath?
It's a meditative experience where you'll be enveloped in the gentle resonance of crystal singing bowls, voice, and other harmonic instruments. These soothing vibrations will wash over you, releasing tension and promoting deep relaxation.

Tickets are $20
You may pay cash at the event or purchase online through the Eventbrite Link

What should you bring?
A blanket, towel, or yoga mat

Event location
Hosted by Empowered Physical Therapy at 9015 Vernon Rd #102 Lake Stevens every Wednesday from 6pm- 7pm
Local Creators Holiday Market
Join us at our festive and enjoyable holiday market! You do not need a ticket to come, it is an open market, so the more the merrier.

Prepare to explore a diverse array of unique handcrafted items, essential oils, candles, jewelry, and more, all skillfully crafted by members of our community.

Whether you're on the hunt for the ideal gift or simply wish to lend your support to local artists, this holiday market is the place to be! Don't pass up this chance to uncover one-of-a-kind treasures and immerse yourself in the holiday spirit. Make a note on your calendar and join us for a delightful day of shopping, backing local creators, and spreading the joy of the season. We look forward to seeing you there!

Please remember to share a smile and support small businesses with a friend!

Hosted by Empowered Physical Therapy
9015 Vernon Rd #102 Lake Stevens
Saturday December 2, 2023 10am-4pm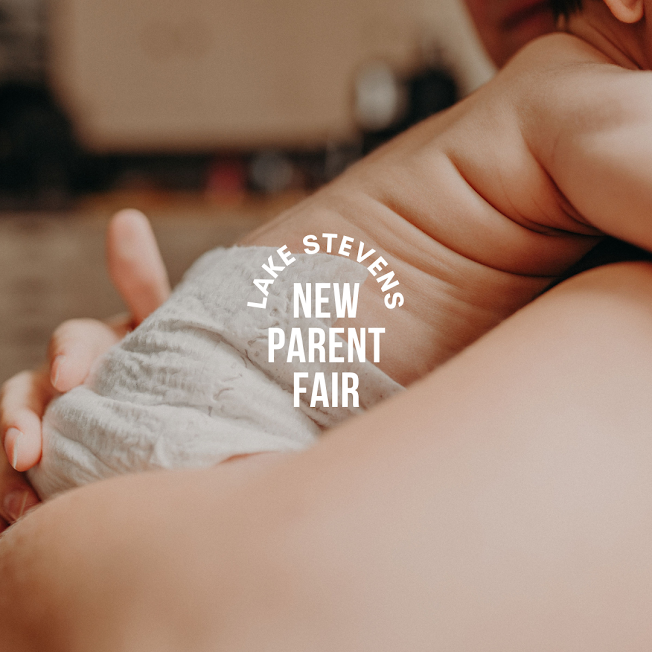 New Parent Fair
The New Parent Fair is a FREE event for anyone who's expecting or thinking about having a baby, new parents, fellow birth professionals, and beyond!

During this event we'll have:
› 20 + Birth professionals hosting booths
› Mini-talks from specialized professionals
› Breastfeeding Support Group
› Raffles
› Giveaways
› Interactive learning stations
› & more!

SEPTEMBER 16TH 2023 10am - 1pm Lundeen Park 10020 Lundeen Park Way, Lake Stevens, WA 98258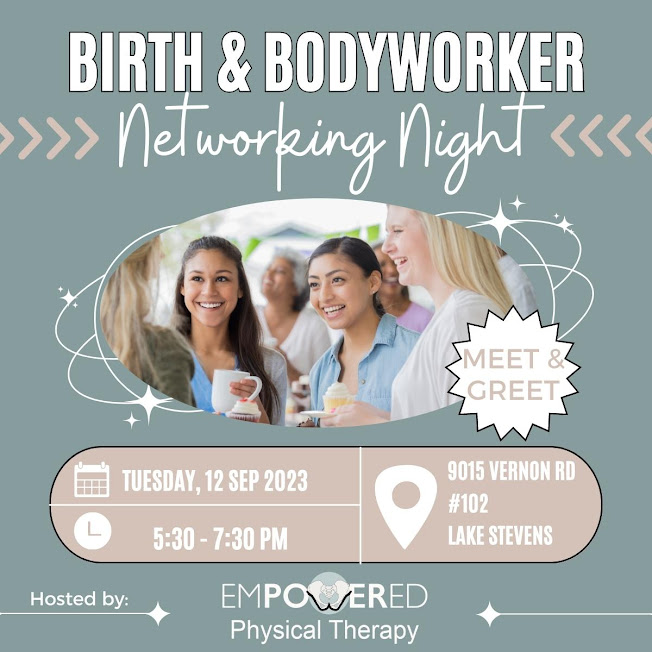 Birth & Body Worker Networking Night
Event link: https://fb.me/e/4vpkzzQjc

WHO SHOULD COME?
Local birth and bodyworkers: Mental Health providers, Doulas, Midwives, Lactation consultants, Massage therapists, Chiropractors, Birth educators, healers, and anyone who helps this population!

WHAT SHOULD I EXPECT?
Meet the other wonderful providers who serve in this area, & learn more about how others can help your clients and patients.

WHAT SHOULD I BRING?
A warm smile, readiness to chat with new people, a friend or coworker, and your business cards.

EVENT LOCATION
Hosted by Empowered Physical Therapy at 9015 Vernon Rd #102 Lake Stevens Tuesday September 12th at 5:30-7:30 pm
"Digest Yin" Yoga Class
Yin Yoga is a practice designed to reach the deeper layers of the body and benefits the body's fascia, ligaments, joints, and even internal organs.In this workshop we will move through a series of postures designed to balance the digestive system, leaving you feeling relaxed and recharged.

7th September 2023 from 6-7 pm! This class is FREE for current Empowered PT patients! Please message us to reserve your spot.
Prenatal Breastfeeding Workshop
Prenatal Breastfeeding Workshop presented by @themamacoach.kiraoneil

Join us here at Empowered Physical Therapy August 25th from 9:30am-11am to learn about all things breastfeeding; Preparing for breastfeeding, latching and positioning, how to avoid sore nipples, and much more! Current Empowered Physical Therapy patients this class is free for you, message us to reserve your spot ☺️
Crossfit and your Pelvic Floor
Are you Leaking with deadlifts, double-unders, or running? Pelvic pressure during squats?Ab separation with knees to bar?

These issues are not normal! Learn how to fix these at this FREE workshop with a Pelvic Floor Specialist.

Join us at 1528 3rd St, Marysville, WA 98270 on May 27th from 11-12 am for FREE!
Interested holding a class or workshop in our space? It's free to you ! Head over to our Contact Page to connect with us!